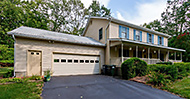 $562,163
12781 Lost Creek Ct
Manassas, VA 20112
View sales data by zip code or compare 2019 and 2020 data.
Visit our DC Metro MLS - MRIS - to review thousands of current listings. Take a virtual tour of homes and get a feel for each property.
Request neighborhood reports and find links to helpful sites.
See how much home you can afford and what an estimated payment will be.